WELCOME TO
THE WRITING WORLD
OF RUTH KOZAK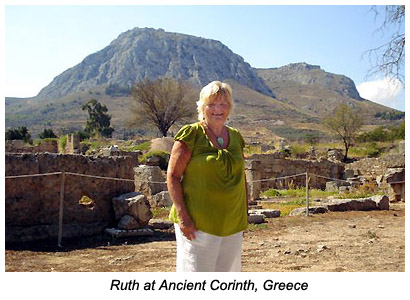 Ruth was born a writer. From her earliest recollections, what she enjoyed most were the stories her parents would tell her. She started to write her own stories when she was ten years old, penning plays about the war, Biblical themes and fairy tales for her classmates and friends. She started writing historical fiction when she was twelve, developing a keen interest in the early pioneers and First Nations people when her family traveled across Canada by train. She spent most of her teens at her old Underwood typewriter writing stories set in Rome or Palestine. During her final year of high school she discovered the world of Alexander the Great and became interested in that 'other world' more than anything else.
After high-school Ruth landed a job as copy-runner in the editorial department of the Vancouver Sun. She had aspirations of becoming a crime writer, but instead ended up a news librarian which helped her hone her research skills. Her journalism skills eventually led her to write about her travels. She likes to combine her interest in history with her travel writing. She is currently editor/publisher of an online travel magazine Travel Thru History and she is on the writing staff of EuropeUpClose. Ruth has written The Vancouver Guide for iStopOver Magazine.
Ruth loves to travel. She first visited Greece in 1978 and lived there full and part time for several years. Most of the research for her novel "Shadow of the Lion" was done in Greece with the support and help of several Classical Scholar friends. She has also travelled to England and Wales where her parents were born. Her work-in-progress Celtic tale "Dragons in the Sky" is set on the Salisbury Plain.
She has instructed writing classes since 1994 for the Vancouver School Board including novel, creative writing and travel writing. She also conducts workshops, does reading critiques and instructs memoir writing classes for various community groups.
Ruth says: "Writing helps me understand not only the way the world is, but about people and places and it helps me understand about myself. For me, writing comes from within my being. Writing is my life. It takes me out of the present world into one of my own creation. So come with me to those other worlds and share my adventures."
PUBLICATIONS
TRAVEL
Various Canadian and American publications including the Globe and Mail, Montreal Gazette, Vancouver Province, Connecting Solo Travel, Senior Living and other international print and internet publications.
Travel Thru History (editor/publisher)
www.travelthruhistory.com
iStopOver Magazine (The Vancouver Guide: North America, Vancouver)
www.magazine.istopover.com/author/thevancouverguide
Europe Up Close
www.europeupclose.com (staff writer)
Travel Generation
www.travelgeneration.com (staff writer)
Literary Traveler
www.literarytraveler.com (contributor)
Travel By The Books
www.travelbythebooks.com (contributor)
Offbeat Travel
www.offbeattravel.com (contributor)
BOOK CREDITS
Insight Guides, Vancouver and Surroundings, APA Publications, UK 1993. (Trips and Tours)
FICTION AND NON FICTION PUBLICATIONS AND WORKS IN PROGRESS
HISTORICAL FICTION
"Shadow of the Lion" (completed)
"Dragons in the Sky: A Celtic Tale" (work in progress)
NON-FICTION
"The Admiral's Island" (history of Keats Island BC Canada)
www.openlibrary.org
Keats Island News "The Admiral's Island"
www.keatsisland.net
www.rickgustavson.com
www.keats-island.ca
Downtown Memory Project contributor, Vancouver 2008
sfucity.wordpress.com/2007/12/10/the-downtown-memory-project
The People's History "Free Spirit" Project contributor, Royal BC Museum, 2008
www.royalbcmuseum.bc.ca
Winner of 1993 on-page writing contest, West End Writers' Club
www.wewriters.org
Foreign Flavours Anthology (Writers Abroad 2011)
BOOK ACKNOWLEDGEMENTS BY OTHER AUTHORS
"Memnon" by Scott Oden
www.books.google.ca
"Trekking the Globe with (mostly) Gentle Footsteps", by Irene Butler
www.granvilleislandpublishing.com
"Mighty Orion (FATE)" by Patricia A. Donahue
www.borealispress.com
DRAMA
"The Street: A Modern Tragedy" produced by Theatre in the Raw, Nov/Dec. 2000.
Work-in-progress "House of the Muses" a dramatization of the life of the lyric poet Sappho.
POETRY
The Alexandrian Collection: Hymns for Gods and Heroes"
Bardic Verses (from "Dragons in the Sky") 1 published
Sudden Thunder Anthology 2011

Royal City Poets Anthology 2013
Assorted prose poems (some published)
MEMBERSHIPS
BC Association of Travel Writers
www.bctravelwriters.com
Canadian Author's Association
www.canadianauthors.org
Federation of BC Writers
www.bewriters.com
Hedgebrook Writers in Residence Program Alumni (Spring 2001 - Whidbey Island WA)
www.hedgebrook.org
Historical Novel Society
historicalnovelsociety.org
Pandora's Poetry Collective
www.pandorascollective.com
BIO NOTES AND INTERVIEWS
Book Goodies - 2015
http://bookgoodies.com
Federation of BC Writers "Off the Page Program"
www.bcwriters.com/off_the_page
Vaccouver School Board Young Writers Festival 2006 - Presenter
Travel Writer's Tales
www.travelwriterstales.com
Pandora's Collective
www.pandorascollective.com/nov25,2009.html
Write to Travel
www.writetotravel.blogspot.com
Planet Eye Traveler bio
http://45.35.220-216.q9.net/member/Ruthaki
Seattle Examiner Travel
www.image.examiner.com
Burnaby Writers Society News
www.burnabywritersnews.blogspot.com
The Common Line Project
www.common-line.com
Commercial Drive "Live"
www.vancouver.bbn3.com
Brock House "Write from the Heart"
www.brockhousesociety.com
Write from the Heart group blurbs (New Westminster)
www.communities.canada.com
Writer Friendly blog "From the Editor's Desk" (bio)
Writer Friendly blog "The Downtown Eastside Project"
RUTH'S BLOGS
Living the Writer's Life
www.wynnbexton.blogspot.com
Travels With Ruthaki
www.travelthroughhistory.blogspot.com
Conversations with Myself
www.ruthakik.blogspot.com
Shadow of the Lion
www.shadowofthelion.com